Brian May, Australian Film Composer; best known scores Mad Max and Mad Max 2.
Brian May was born in Adelaide on July 28 1934. He died in Melbourne on April 25 1997 at the age of 62.
Brian May trained at the Adelaide Elder Conservatorium as a pianist, violinist and conductor. He joined the ABC Adelaide in 1957 and was asked to form and conduct the ABC Adelaide Big Band, a full-blown ensemble that was rated as the best of the ABC state-based bands.
He moved to Melbourne when he was 35 to arrange and conduct the ABC's Melbourne Show band. The Show Band made its radio debut on the First Network on 13 March 1969.
Background music for Australian television had previously been taken from records. Brian May changed this by writing and arranging the themes for television programmes, including Bellbird, Return to Eden, The Last Frontier, A Dangerous Life and Darling of the Gods.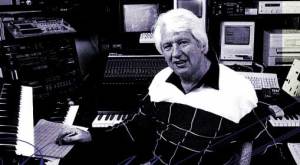 A breakthrough for Brian May was the drama series Rush, set on the 19th-century Victorian goldfields. The theme was composed by Australian George Dreyfus, but May's arrangement of the theme was recorded by the Show Band and quickly reached the top of the Australian charts, selling more than 100,000 copies. This type of success was usually reserved for pop groups such as Sherbert and Skyhooks.
Brian May also composed the Countdown theme and the Melbourne Show Band launched the highly successful Countdown television series.
Brian May left the ABC in 1984 and his interests turned to film music. He composed more than 30 feature film scores, including Gallipoli, the Mad Max series, Tales from the Crypt, Nightmare on Elm Street, Freddy's Dead, The Final Nightmare and Dr Giggles. Brian May preferred to orchestrate his scores himself.
Mad Max won the Australian Film Award for Best Original Score.
Brian May won many other awards, including the Golden Award from the Australian Performing Rights Association.
Brian May loved writing music and spent many years in America working on film scores. He was regarded as the finest of Australia's screen composers.
More information about the works of Brian May is available online at:
https://www.filmscoremonthly.com/daily/article.cfm?articleID=2211